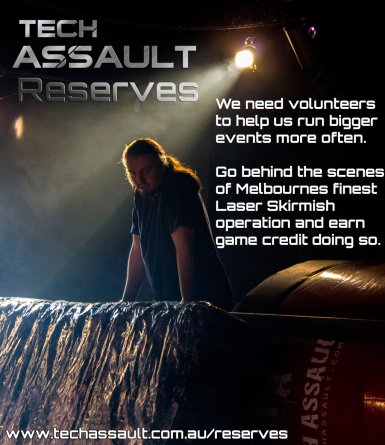 Tech Assault are a small passionate business with more concepts and ideas than you can shake a Laser powered stick at. We are out there running our games and developing our software platform, being a small independant team gives us a lot of creative freedom but also has its limitations. So we are calling for passionate volunteers to help us in a number of areas (a Reserve will normally cover a number of roles in a day):
Battlefield construction
Assist with the layout design and inflation of our bunkers prior to a day of games. Requires some lifting. 2 hours work.
Battlefield deconstruction
After a day of games the battlefield must come down, help us deflate and pack the bunkers into storage. Requires some lifting. 2 hours work.
Marshalling
Ever wanted to get behind the controls in our game, nows your chance. You will learn how to use the Admin box to configure and start our matches. Also responsible for taking scores at the end of certain games and keeping an eye on players, giving assistance where needed. Must be a people person for this one. Usually 2 hours per session (multiple sessions in a day)
Hero characters
We are starting to experiment with story driven games and as such will need players with basic acting skills or just heaps of personality to help drive the story in game. Roles might have you briefing your team of customers then taking them into battle, giving orders, aiding immersion and steering the game within the boundaries of the story line. Usually 2 hours per session (multiple sessions in a day). You wont get TA credit for this one as you are technically playing the game at the time.
How it works
Once you register interest you go on our TA Reserves mailing list, when we need assistance we email all on the list and first come first served. Please make sure you are definately available for the dates and times we email about before confirming. To be a Reserve needs commitment and if people pull out on us last minute we suffer in a big way.
As you volunteer more hours with us you literally get more experience and this is visualised by going up in Rank, higher ranks recieve more game credit per hour.